UV/EB curable resin [BEAMSET]
This resin is a photo-curable resin that quickly and three-dimensionally cures by radical polymerization that occurs with electron beam (EB) or ultraviolet ray (UV) irradiation. This resin has been used widely for various applications.
We are developing various types of UV/EB curable resin including rosin-based acrylate, various types of special modified acrylate, polyurethane acrylate and polyester acrylate. They can be used as a raw material for manufacturing printing ink, paint, coating agents, tackifiers and adhesives. Also we are developing an emulsion type of monomer that can help reduce the VOC content of coating, water soluble type of monomers, low-viscosity quick curable type of monomers, and those having antistatic functions as well.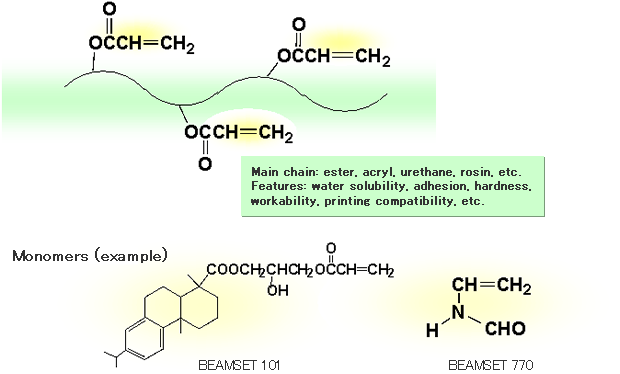 Product lineups
Product
Type
Functionality
Appearance
Non
Volatile (%)
Viscosity
(mPa・s)
(25℃)
Characteristics
Use
101
Rosin acrylate
1
Yellow transparent liquid
100
100,000 max
(40℃)
Good adhesion
Ink, Adhesive
243NS
Modified acrylic
polymer
2
Pale yellow
transparent liquid
〃
6,000±1,000
Good adhesion to oil-based ink
Low P.I.I.
OP varnish
255
〃
〃
〃
〃
30,000±5,000
Good adhesion to oil-based ink
and treated PP film, High gloss
〃
261
〃
〃
〃
〃
530±50
Good adhesion to oil-based
ink, High gloss
〃
271
〃
〃
〃
〃
12,500±2,500
Good adhesion to oil-based ink
and PET film, High gloss
〃
502H
Urethane acrylate
〃
〃
〃
150,000±30,000
High flexibility
Good adhesion
Adhesive
(Good adhesion to PVC)
504H
〃
〃
〃
〃
60,000±20,000
(40℃)
〃
〃
505A-6
〃
〃
〃
〃
6,500±1,000
(40℃)
Good adhesion,
High flexibility,Quick curing
〃
550B
〃
3
〃
〃
125,000±5,000
Good adhesion
Quick curing
〃
575
〃
3-6
〃
〃
12,000±2,000
Good chemical resistance
Excellent hardness
Hard coatings
577
〃
〃
〃
〃
1,700±500
Excellent hardness
〃
700
Dipentaerythritol polyacrylate
6
Pale yellow transparent liquid
100
4,500±1,000
Anti-emulsification
Quick curing
Ink
Hard coatings
710
Pentaerythritol polyacrylate
4
〃
〃
700±150
Anti-emulsification,
Excellent hardness,
Quick curing
〃
730
Di-trimethylolpropane tetraacrylate
〃
〃
〃
500±100
Excellent hardness,
Good compatibility,
Low P.I.I.,Low viscosity
〃
750
Bis-A ethylene oxide modified acrylate
2
〃
〃
1,500±500
Anti-emulsification
Quick curing
Ink, Coatings
770
N-vinyl formamide
1
Pale yellow - pale turquoise transparent liquid
〃
10 max
Low viscosity,Quick curing Water-soluble
Paint, Ink
Coatings
AQ-17
Urethane acrylate
3-6
Pale yellow transparent liquid
100
500±200
Dilute by water (~50%) Quick curing
Wood paint Aqueous OP varnish
EM-90
Urethane acrylate emulsion
6
Milky white emulsion
40
125±75
Emulsion type,
Quick curing.
Coatings
EM-94
〃
〃
〃
50
700±300
Emulsion type Excellent hardness,
Quick curing
Hard coatings